Rua has only 1 career submission win.
Professional record breakdown
[hide]
29 matches
21 wins
8 losses
By knockout
18
2
By submission
1
3
By decision
2
3
No contests
0
James Te Huna only loses by submission. He is the typical brawler Samoan. You can't KO him cause his skull is massive- the ability to survive head clubbings has been selected for strongly on Polynesian Islands, apparently- but he's a poor grappler, with a tendency to get submitted. If you don't control him with grappling, there's a good chance he'll knock your head off.
Professional record breakdown
[hide]
22 matches
16 wins
6 losses
By knockout
10
0
By submission
3
5
By decision
3
0
By disqualification
0
1
This is a bad stylistic matchup for Rua.
I'd assume Rua's submission game is more dangerous than his record implies, and that he'll be the better grappler, but I doubt he'll be able to translate the advantage into damage, and/or a submission. Why?
Look at the weigh-in pic.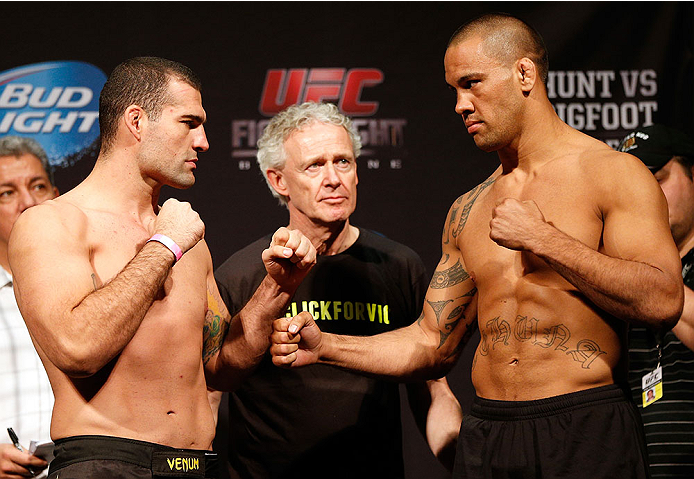 Equalize their body fats, and Te Huna's probably 35 lbs heavier; that never happens outside of heavyweight. Also, he's three inches taller, younger, and quicker. That should be enough to protect Te Huna from getting subbed, or damaged by Rua's technical grappling advantage. But I guess Rua could grind out a decision by maintaining control.
More likely, these guys stand and trade, and Te Huna wins by KO.
11:05 PM

24305

James Te Huna

-130

Ov

1½

-165

24306

Mauricio Rua

+100

Un

1½

+135